Goa, a best known place for its night life attracts tourist from all across the globe. Goa is noted for its greatest and coolest beach destination for party hoppers. Goa has reasonably a flourishing nightlife scene.  Only a handful of other places on earth can beat the charm of Goa nightclubs. In fact they have even become part of the sightseeing for nearly every tourist. Whether you are a die-hard party creature used to hanging out with celebrities or a head-thumping rock star, Goa has the perfect party spot for you.
Here we have got for you the most valuable of the information about the greatest bars from Goa which have a perfect blend of drinks, music and ambience.
LPK (Love Passion Karma)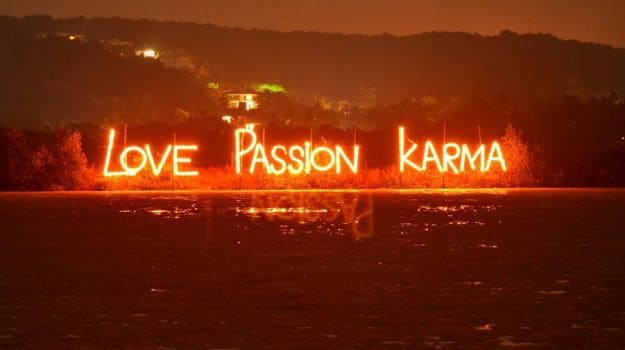 A 400-year old Indo Portugese church in the backdrop, an unbelievable waterfront and many terracotta statues around, LPK is the best place to be when in Goa. LPK commands the best of the exotic locations and magnificence can be seen all over the place. Dance your night out on the LPK's specially sculpted indoor dance floor on the latest hits or walk in the water with your gang or romance with your partner along the riverside, LPK has many more things to offer.
SinQ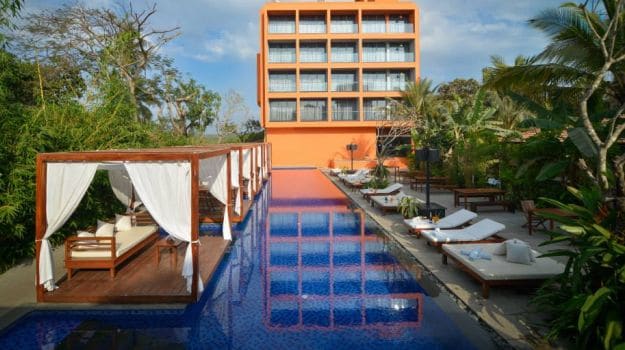 Near to Taj Holiday Village at Candolim in North Goa is this chic and buoyant everyone would certainly love.  The newest entry in the Goa clubbing arena, this place has a mixture of local Goan place, nightclub and a wonderful lounge with a poolside deck too. Recently introduced is a glass-walled microbrewery.  Also it has 20 party suites. All of them are equipped with advanced sound systems that is given a live feed from the DJ consoles in the main club. SinQ,  time and again has DJ Aqeel and DJ Suketu on Saturday nights playing their best music.
Leopard Valley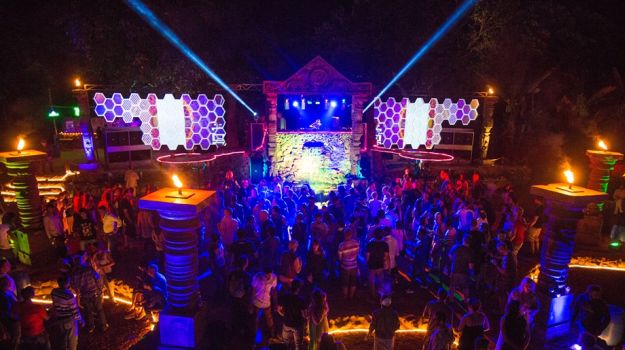 Concealed in a valley between Agonda and Palolem, in South Goa, this is a club known for its parties which continue till the wee hours of the morning. The raw decor perfectly matches and blends with the greenery around this place. 3D laser shows, pyrotechnics, fire pits and a glittering atmosphere all awaits here for the party goers.  The main dance floor has a long list of offerings at the bar which is just the need for the state-of-the-arts sound system. Many guest DJs perform here taking the Leopard Valley takes clubbing experience to a whole new level. Friday nights are something not to be missed here.
Cohiba
Live music, fusion cuisine and signature cocktails is something this new uber trendy lounge and bar has on offer. This fascinating bar is located in Sinquerim, where Sweet Chilli used to be in Fort Aguada. With an al fresco area and indoor seating, it has the walls filled with photographs and high back chairs. Cohiba has an extensive variety of spirits where the crowds start coming in by 9 pm and goes up till 1 am with local to international chartbusters playing and entertaining the crowd.
Club Cubana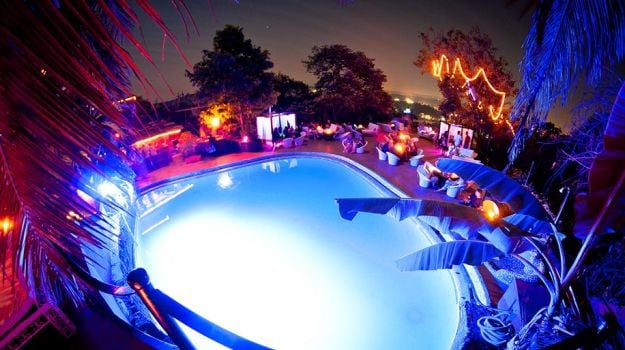 Also called as "the nightclub in the sky", this club is a twisting network of levels and terraces. With austere white loungers, beach-styled cabanas, an alluring Jacuzzi and poolside amidst coconut trees and pillars this is place not to be missed at all. With fluorescent things in this club, it has the feel no other club has to offer. The view Aguada to Anjuna is purely splendid.  There is also a part strictly reserved for ladies only. Also, every Wednesday is ladies night.